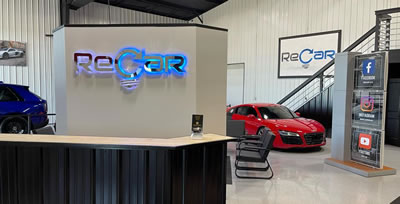 Why ReCar?
Most people know that you save money on buying a vehicle with a bad history, but they have concerns about financing, protection plans, and the ability to resell. We can help, it's what we do. We are experts in saving you money at the time of purchase AND when you're ready to upgrade. reThink the way you buy and sell vehicles and save money with Recar.
Flexible financing options
CARFAX on every vehicle
Protection Plans
Repurchase or provide trade in value when you are ready to resell
ReCar is the authority for connecting consumers to heavily discounted vehicles with less than perfect history.
We are the largest dealer of "ready to drive" vehicles in the country that focuses on both clean and rebuilt title vehicles.
We remove the concerns and help you buy more vehicle for less money.
The secret- you save money when you purchase the vehicle and lose less money when you resell or trade it back at ReCar. Our prices are discounted so heavily, there is less room for depreciation. It's that simple. That's why we have so much repeat business(over 1,000 repeat customers) and word of mouth is our best form of advertising. Some of our buyers have saved over $10,000 on their vehicle and our average savings is around $7,000.
We use our experience of purchasing 20,000+ vehicles to hand select:
Franchise trade in units with clean tiles and accident history
Theft recovery
Repaired collision damage from professional body shops across the country
Catastrophic buyouts from water/wind/hail
Our units are sourced from wholesale purchases, franchise dealership trade ins, lease buyouts, repair facility buyouts, and customer direct.
Clean title - Typically franchise dealer trade-ins-some of these units will show an accident on a history report-but they are guaranteed to be a clean title and will have factory warranty if applicable.
Clean title with total loss history - these vehicles have a clean title but will show a total loss history. They received damage, but it was not severe enough to issue a salvage title. Again- These units will show a total loss on a history report, but they are not a salvage title. They are clean title vehicles. Please verify with your local DMV before purchasing that your state will abide by the laws of the titling state and issue a clean title in your home state.
Rebuilt title - previously salvaged from theft/collision/catastrophic event/hail. Vehicles have been inspected and approved in the state they were repaired. These vehicles have been professionally repaired and provide the most savings.
Don't overpay for your next car, ReCar your next car.
Save money and make a smart investment
Build a trusted relationship with our team for all of your future purchases.